Yvonne Chaka Chaka Celebrate
Line up for 702 presents
CELEBRATE!
with
Yvonne Chaka Chaka
and Friends
17 March 2015 – It is with great pleasure that 702 and Yvonne Chaka Chaka announce the stellar line up of iconic South African artists who will join the Princess of Africa in concert to Celebrate!
Yvonne's 2015 will be a year of milestones for this legend in music; her 50th birthday, her 30th anniversary in the music industry and her 10th year as a UNICEF Ambassador.  Presented by 702 at the Lyric Theatre, in Johannesburg, on Saturday, 28th March 2015, Yvonne will take the audience through three decades of hit songs and will be joined by some of her fellow legendary friends to help her Celebrate!…her journey, her work and her life.
The hosts of the evening are acclaimed South African comedian Joey Rasdien as well as Late Night News host  Loyiso Gola . Some of the performers who will be joining Yvonne on stage are Marc Alex, Phumi (Cheek to Cheek), Ihashi Elimhlophe and Linah (Ebony), Tshidi Moholo (Malaika), PJ Powers, Tracy-Lee Olivier and a number of others.
This star-studded, intimate show will take her audience on a journey through her life as an African musician and a global celebrity – it is not to be missed.
Tickets on sale at www.computicket.com
Venue:             The Lyric Theatre, Gold Reef City
Dates:              Saturday, 28 March 2015
Tickets:           R200.00 – R350.00
Bookings:        www.computicket.com
JOEY RASDIEN
Joey is the face of a new generation of South African comedy. He is instantly recognisable thanks to his roles in movies such as Running Riot, Bunny Chow, Vaatjie Sien Sy Gat, Dollars and White Pipes, Outrageous Blitz Patrollie and   "Material" with Riaad Moosa. Joey wrote, co-produced and acted in his own sitcom "Rasdien" which was flighted on SABC 2. In addition, he has performed in many major comedy festivals in South Africa and is a regular on the comedy circuit at the country's leading venues.
LOYISO GOLA
Host of Twice Emmy Nominated Late Nite News with Loyiso Gola (LNN), Loyiso Gola is undoubtedly one of the country most celebrated comedians currently. With one of the most impressive cv's you'll find on the local comedy scene, with numerous awards & accolades in his wake – Loyiso Gola is not only one of the most gifted comedians South Africa has ever produced but also one of the most important ones.
MARCALEX
In the 90s Marc Rantseli performed with his brother, Alex, as boyband MarcAlex. They had a huge hit with their song "Quick Quick" off the album, Boys B Boys, a follow-up to their 1988 debut album.
PHUMI (CHEEK TO CHEEK)
In 2002, Phumi came back with a thrilling album simply titled "STOCK TAKING". The ten track album was a cross over between POP, KWAITO and TRADITIONAL.
2004 she came up with a very, very hot jazz album which was a surprise to her loyal fans, the woman is versatile indeed. The beautiful album "DINAKA LE MEROPA", featuring hit songs like CHISKOP TAMATIE, LOTTO, BHUTI & WOZA 2010 which made SAFA to call her to perform for SOUTH AFRICA against NIGERIA in November 2004 with the group Malaika.
IHASHI ELIMHLOPHE AND LINAH (EBONY)
Linah Khama, known as Ebony, the sizzling vocalist and wife of Bheki Ngcobo, also known as Ihashi Elimhlophe. Ebony last released a solo project in 1998. She has been working as a backing vocalist and a manager for her husband's band.
TSHIDI MHOLO (MALAIKA)
Tshidi Mholo met fellow group members Bongani Nchang and the late Jabulani Ndaba in a church choir in 2003, while teaching music and drama at the Mabana Cultural Centre in Mmabatho and together they formed multi-platinum-selling South African Afro-Pop group, Malaika. In October 2013, Tshidi Mholo released her solo album, "Victory".
PJ POWERS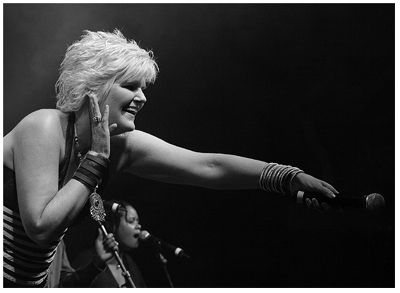 PJ Powers is one of the biggest singing sensations South Africa has ever produced. Recently declared a National Treasure she now shares her story with you.
TRACEY-LEE OLIVIER
Lead actress opposite Shaleen Surtie Richards in the Kyknet movie "As die Skoen Pas"
Two-time Naledi nominated for her lead role "Deena Jones" in the South African broadway musical "Dream Girls".
---
Dionne Domyan-Mudie
The Publicity Workshop
1st Floor, Riverview Centre, cnr Conrad Dr & Hillcrest Ave, Blairgowrie Randburg, 2194
P O Box 782022, Sandton, 2146
Office: +27 11 072 2848
Mobile: +27 83 326 1776
Email: prwork@iafrica.com
www.thepublicityworkshop.co.za
PUBLISHED BY
DK EXPRESSIONS®